Academic Projects
PhySim11p

PhySim11p is the project associated with my Marie Curie fellowship, where I work on a more realistic physical layer simulation model for IEEE 802.11p. The project is advised by Prof. Linda Doyle and executed at the Connect Center of Trinity College Dublin. The goal is to use my SDR implementation of IEEE 802.11p to characterize link performance through simulations and experiments, and use the results to derive physical layer simulations models that can be used in macroscopic network simulators.
Funding: H2020 (Marie Curie Fellowship)
Project time: 05/2017–now
Website: Project, Funding Body
Selected Publications
---
GNU Radio WiFi Transceiver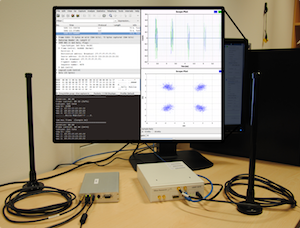 I implemented an IEEE 802.11a/g/p transceiver based on GNU Radio that supports all modulation and coding schemes, runs completely in software, and supports a wide range of SDRs. It's well suited for both simulative and experimental performance evaluation of WiFi and Vehicular Ad Hoc Networks.
Funding: internal
Project time: 10/2012–now
On other sites:
Selected Publications:
---
GNU Radio ZigBee Transceiver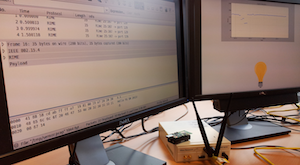 I extended Thomas Schmid's ZigBee transceiver to a complete network stack for IEEE 802.15.4 devices. It even supports the RIME stack of the Contiki operating system, a well-known operating system for sensor motes.
Funding: internal
Project time: 10/2011–now
On other sites:
Selected Publications:
---
WiME – Wireless Measurement and Experimentation

WiME is an umbrella project for my SDR-based research projects. The idea is to have one spot with information and documentation of the various projects to make them more accessible to others.
Funding: internal
Project time: 10/2011–now
Website: www.wime-project.net
Selected Publications:
---
Performance Limits of IEEE 802.11p in Highly Dynamic Vehicular Ad Hoc Networks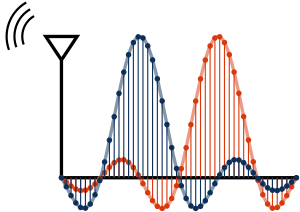 We use SDR to study the performance of IEEE 802.11p in realistic environments to understand whether the technology that was initially designed for relatively static indoor environments can cope with the high dynamics of vehicular networks.
Funding: DAAD (German Academic Exchange Service)
Project time: 09/2015–03/2016
Project Partner: Prof. Mario Gerla, UCLA
Website: Project
Selected Publications:
---
Smart Communications for Intelligent Transportation Systems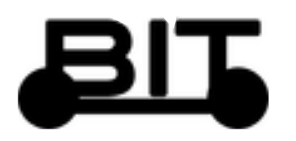 This project is focused mainly on understanding, modeling, exploiting and possibly improving the IEEE 802.11 standard amendment 802.11p or WAVE (Wireless Access in Vehicular Environment).
Funding: BIT PhD School
Project time: 04/2012–03/2015
Website: Project
Selected Publications:
---
Bats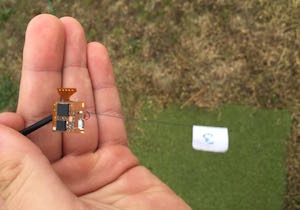 BATS is a multi-disciplinary project funded by the German research foundation. The goal is to equip bats with very light-weight sensor motes to track bats in the wild and study the social behavior in their natural habitat. In our subproject, we designed the data communication and built an SDR-based prototype.
DFG (German Research Foundation)
Project time: 12/2012–12/2018
Website: Project, CCS subproject
Selected Publications:
---
ENergy-Aware CompuTing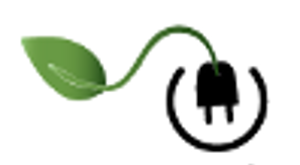 EN-ACT aims to drastically reduce energy consumption and CO2 emissions of applications and systems based on Information and Communication Technology (ICT).
EU/INTERREG
Project time: 09/2012–06/2014
Website: Project
Selected Publications:
---
Side Projects
Instant GNU Radio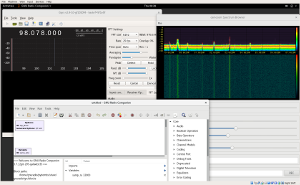 Instant GNU Radio is a programmatically generated VM and live environment for SDR. It can be easily adapted and branded for specific courses. The base image comes with a sane environment that supports a wide range of SDRs and comes with basic applications pre-installed.
---
DFS Testing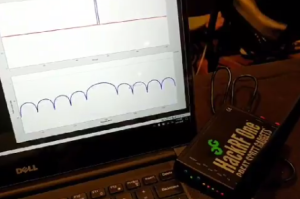 On some channels in the 5GHz band, WLAN is only the secondary user. The primary users are weather radars. Before opening an access point, WLAN cards have to sense the channel to make sure that they do not interfere with radars. In the project, I emulated radar pulses to test this functionality on various WLAN cards.
On other sites:
---
Jamming WiFi Networks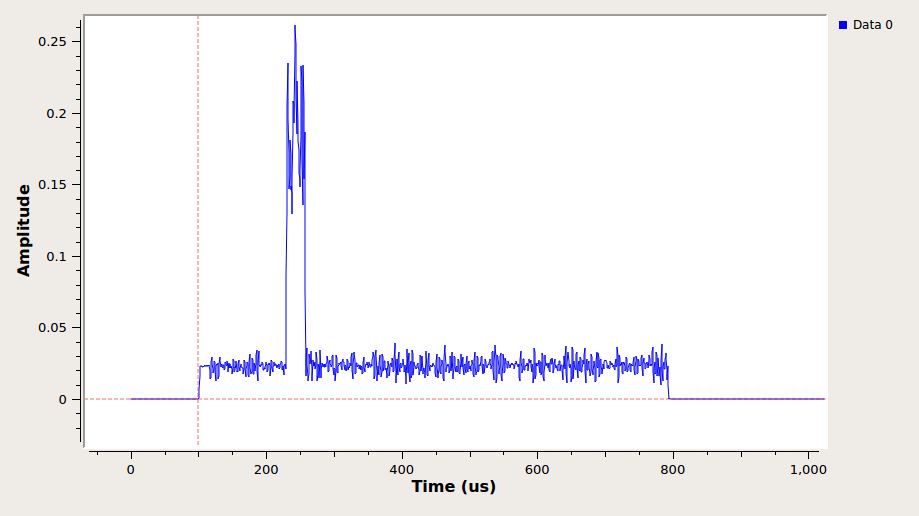 Based on Mathy Vanhoef's firmware modifcations for some Atheros WiFi cards, we are investigating their potential to operate as reactive jammers. In particular, we are interested in the limitatons in terms of delay, the reliability that a jamming signal is sent, and the effectivenes of the jam signal.
Website: Blog post
On other sites:
The reactive jammer was also used in:
---
SpectroPhone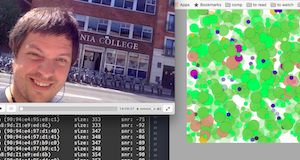 I am interested in alternative approaches to make the spectrum visible and audible. With SpectroPhone, I captured all WiFi signals and painted them as circles on a canvas. The color indicates the manufacturer of the chip that sent the frame, the size indicates the data that it carries, and the fade duration indicates the signal strength. To make it audible, I mapped the manufacturer to notes on the c major scale and let the signals play the notes.
On other sites:
---
Reverse Engineering Public Transportation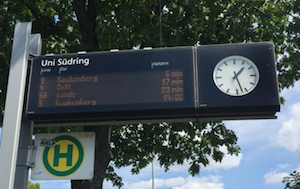 I noticed that both the buses and the signs at the bus stops are equipped with rather long antennas that—as it turns out—are used to disseminate telemetry data that allows to predict the arrival of the bus. I reversed the physical layer and large parts of the data payload and created an interactive map that displays the position and state of the buses.
Website: Blog post
On other sites:
---
Reverse Engineering Mobile Traffic Lights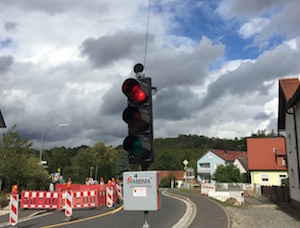 Placing two pairs of mobile traffic lights directly in front of our house provided the perfect opportunity to study their signals. I reversed the physical and link layer and implemented my own receiver that outputs the state of the traffic light in a web interface.
Website: Blog post, Blog post, Blog post
On other sites:
---
GNU Radio RDS/TMC Transceiver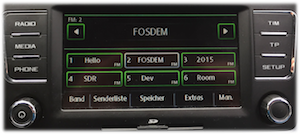 I maintain a GNU Radio RDS implementation. That's a project I continued and extended quite a bit. RDS is a data subcarrier on ordinary FM broadcasts that allows the radio to display the station name, for example. With TMC, RDS can also be used to disseminate traffic information. As the whole system is unencrypted and unauthenticated it can serve as a demonstrator for spoofing traffic messages.
On other sites:
---
Reverse Engineering Car Key Fobs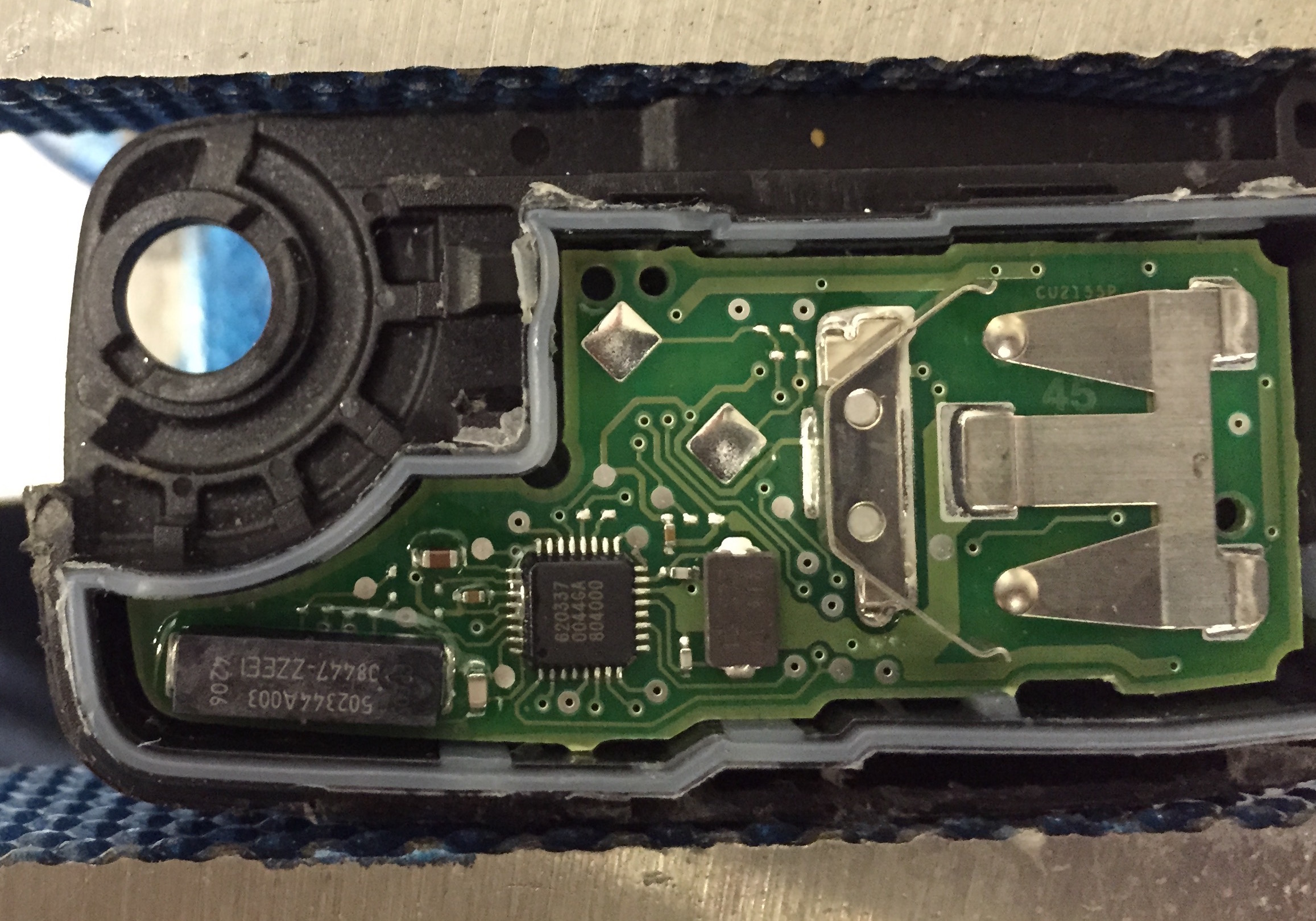 In 2014, I bought a car and, of course, had to reverse its wireless key fob. It uses a rather simple modulation in the 433MHz band. As it turns out, the security of the key is based on a 64-bit rolling code. I made some progress, but did not (yet?) have the big break through.
On other sites:
---
Reverse Engineering a Weather Balloon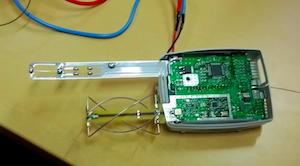 On a hike through the forest, I found a weather sonde from Vaisala launched by the German military. Fortunately, I found a GNU Radio module from a hacker space in Prague that I restructured and extended with live graphs of the sensor data.
Website: GitHub
On other sites:
---
Websites
ACM MobiHoc 2016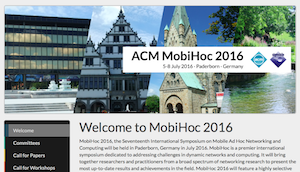 I redesigned the website of ACM MobiHoc 2016. It uses Bootstrap for the frontend and a Gulp workflow—scaffolded with the gulp-webapp Yeoman generator—for the backend.
Website
---
Personal Blog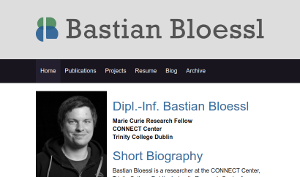 My personal blog where I write about stuff that I find interesting. The blog uses static websites and is built with a custom Gulpfile.
Website
---
Photo Blog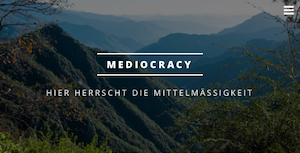 My girlfriend's photo blog is based on a responsive theme from HTML 5 Up. I extended it pretty heavily and transformed it into an Wordpress theme.
Website
---
Wime Project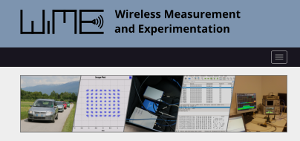 Like my personal blog, the WiME website uses static websites that are built with plain Gulp. It uses a custom design that is based on Bootstrap.
Website